JJ Transport Staff Spotlight Questions
Name – Pat Schwalm
Pat was born and raised in Northern BC, in the city of Fort St. John. He got his start in the Oil Patch with L.A.N.D. Transport as a "swamper" on a 28 tonne Crane at the age of 18. He also did work on Service and Drilling Rigs.
After moving to Edmonton, he ran a crane for a pipe company. He then moved into the office work looking after dispatch and inventory for 8 years. Pat's love for the Sunshine & Surf brought him and his wife back to the Lower Mainland on BC in 1995. Pat is the newest member of the JJ Transport family and we wish to extend him the warmest of welcomes!
1. What are 3 words to describe JJ Transport?
Honest, Trustworthy & Trustworthy
2. What drew you to JJ Transport originally?
Justin and Trevor's git er done attitude
3. What is your role at JJ Transport?
Special Projects Coordinator
4. How did you first learn about JJ Transport?
Called from my old job to get rates
5. What's a goal you have for yourself that you want to accomplish in the next year?
To expand the heavy haul division of JJ Transport
6. What's the most inspiring part of your job?
It is a very friendly atmosphere and co-workers are supportive
7. What are you happiest doing, when you're not working?
Playing with my 8 year old daughter
8. What are some causes you care about?
SPCA, MS & Children's Hospital
9. What is your favorite family vacation?
Disneyland!!!
10. What is your favourite quote?
Go BIG or go home!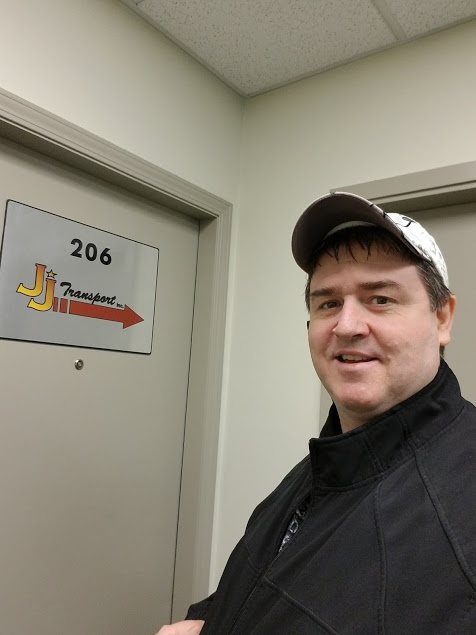 On my first day…
Now…